Table of Contents:
The Brazilian Butt Lift is increasing in popularity in the world of plastic surgery. This type of butt augmentation procedure uses fats removed from other areas of your body. Your plastic surgeon injects these fats in your buttocks which results in a better form and shape of your bottom.
If you're planning to undergo a Brazilian Butt Lift, you may have many questions in mind. Read on and learn more about Brazilian butt lift surgery.
A Brazilian butt lift can give you a more sensual body profile with perky and prominent buttocks. Even though this cosmetic procedure may provide promising results, there are still pros and cons. Here are some of the advantages and disadvantages of a Brazilian butt lift: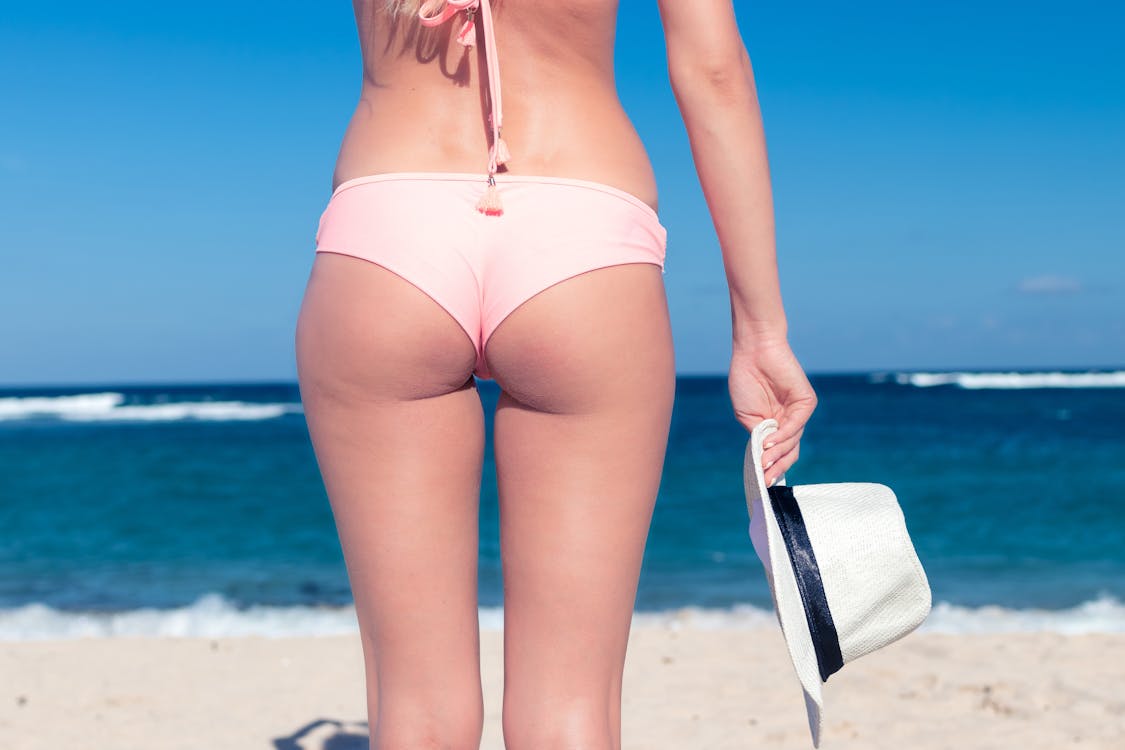 Advantages
Perky and prominent buttocks
Youthful-looking buttocks
You use your own fats which are usually removed from other areas of your body
Involves liposuction which can give better contour at your donor sites and your buttocks
Fewer risks and complications
Disadvantages
Limited or no fat donor sites
Transplanted fat may not survive
Wound healing may usually take about 4-6 weeks
Burden of not being able to sit well for about 2-3 weeks
Who are the likely candidates to undergo a Brazilian butt lift?
Brazilian butt lifts require your own body fats to achieve a better contour of your buttocks. This means that the best candidates for this cosmetic procedure are those people who have a good amount of fat in their bodies.
You can undergo a Brazilian butt lift if you need enhancement of the following:
Saggy buttocks
Poor buttock shape after massive weight loss
Flat buttocks
Aging on the buttocks
Asymmetrical buttocks
Small buttocks
Also, you can undergo Brazilian butt lift surgery if you meet the following considerations:
If you have significant skin laxity after undergoing bariatric surgery or dramatic weight loss
If you commit to the postoperative recovery instructions to achieve desirable results
If you set a positive attitude about the cosmetic procedure and have realistic expectations
If you avoid smoking at least six weeks before a Brazilian butt lift surgery
If you have no underlying chronic medical conditions and you have excellent overall health
How do you choose your cosmetic surgeon for Brazilian butt lift surgery?
Your convenience is all that matters when undergoing a Brazilian butt lift. Choose a trusted plastic surgeon that you feel comfortable with. A Brazilian butt lift surgery must be done by a certified and expert cosmetic surgeon so that you'll achieve desirable results. Below are a few tips on how to choose the right cosmetic plastic surgeon for you.
Certification and Membership
Make sure that the plastic surgeon is a member and is certified by the American Board of Plastic Surgeons. It's a good indication that your cosmetic surgeon can be trusted and is well-skilled.
Experience
A plastic surgeon's experience with Brazilian butt lifts can tell if he or she can give you safe and desirable results. Your Brazilian butt lift surgery outcome is highly dependent on your plastic surgeon's experience. If the surgeon doesn't use proper methods for harvesting, purifying, and injecting fat cells, you won't obtain long-lasting results.
Reputation
One way to find an excellent plastic surgeon is by seeking a recommendation. It's better to ask anyone who has undergone a Brazilian butt lift. Check the doctor's records for experience and any malpractice complaints. This information may be made public by state medical boards.
Initial consultation
During your initial consultation, you'll have the chance to discuss your desired aesthetic goals. Your chosen cosmetic surgeon will do a thorough evaluation on you for a Brazilian butt lift. A detailed discussion of the procedure, risks, complications, recovery period, and results will also be given to you by your plastic surgeon.
Your plastic surgeon may also ask you relevant questions. It's crucial that you're completely honest with your answers during the initial consultation. It's for your own safety and convenience.
How do you prepare for a buttock lift surgery?
Your cosmetic surgeon will give pre-operative instructions. You might also undergo further medical or laboratory tests, depending on your surgeon's assessment. In some cases, your doctor may require you to take medications before surgery.
Your plastic surgeon may require you to do the following pre-operative instructions:
You must have a BMI (Body Mass Index) of less than 35 kg/m2. Having the proper BMI for the procedure is important is to reduce the risk of post-operative complications.
Avoid smoking at least six weeks before undergoing buttock lift to promote better wound healing.
Some medications can cause increased bleeding like aspirin, certain anti-inflammatory drugs, and some herbal medicines. These meds must be avoided for at least one week before surgery.
The night before surgery, you'll be required not to eat or drink anything after midnight.
Some cosmetic surgeons may require additional examinations, like a pregnancy test, right before the surgery starts.
A Brazilian butt lift is usually done on an outpatient basis. It's best that you arrange for someone to drive you to the surgical facility, and back home after surgery. Someone also has to stay with you at least the first night following your buttock lift surgery. In some cases, your plastic surgeon might require a hospital stay. It'll depend on his or her assessment of you after your surgery.
What happens on the day of your Brazilian butt lift surgery?
Before your Brazilian butt lift surgery is performed, anesthesia will be administered to you. This cosmetic surgical procedure can be performed under general anesthesia or IV sedation.
When you're sedated, the cosmetic surgeon will put a breathing tube in your mouth to guarantee that your airway is secure during positional changes involved in Brazilian butt lift surgery.
Your plastic surgeon will follow the surgical plan made with you during your initial consultation. There may be a need to perform other procedures or combine various techniques for optimal results.
How are Brazilian butt lift surgeries performed?
Plastic surgeons may have different techniques for performing Brazilian butt lift surgery. But whatever method he or she chooses, it won't affect your results. Depending on what method is used in the procedure, this may influence the longevity of the results.
A Brazilian butt lift surgery may be done using these methods:
Fat extraction
Fat processing
Fat re-injection into the buttocks
Fat extraction (using Liposuction)
Typically, liposuction (suction-assisted tumescent liposuction) is done to extract your body fats. During the fat extraction procedure, areas around your buttocks are first contoured to make them stand out more. These extracted fats will be used later for the fat graft to your buttocks. The preferred donor sites for the surgery are your abdomen, hips, waist, and lower back.
Fat processing
After a successful fat extraction, the accumulated fats undergo a thorough process of decantation and centrifugation.
It doesn't mean that all fats extracted from your body are qualified to be re-injected into your buttocks. Usually, only a portion of the donor fat removed qualifies. Only the best donor fat cells can be re-injected into your buttocks for enhancement.
In most cases, about 33% of the fats removed may qualify for re-injection into your buttocks. Your plastic surgeon may require liposuction from two or three different areas of your body.
Fat re-injection into your buttocks
This process is usually the final step in a Brazilian butt lift surgery. Fat reinjection may involve hundreds of microinjections to achieve your aesthetic goal.
With the use of specialized cannulas, small amounts of fats are injected into different areas of the buttocks. Injections are usually done at various depths to achieve the highest permanent absorption rate.
Your plastic surgeon must use proper injection methods to achieve a uniform, smooth, natural appearance of your buttocks.
What happens after Brazilian butt lift surgery?
This may be the most crucial part of the surgery. You must follow your cosmetic surgeon's instructions after surgery to achieve desirable results. It's also vital to ensure the survival of injected fat cells following your Brazilian butt lift surgery.
To achieve successful recovery for this surgical procedure, your plastic surgeon may require you to do the following instructions:
Be well-hydrated by drinking lots of fluids
Avoid strenuous activities and heavy lifting
Have bed rest, especially in the first week after your surgery
Wear compression garments 24 hours a day for the first two weeks of your recovery
Avoid driving for about two weeks
Don't sit directly on your buttocks for about two to three weeks. Use a cushion prescribed by your doctor to sit on during the third week of recovery
You may need at least two weeks off from work
Make sure to attend follow-up appointments made by your cosmetic surgeon
One of the critical points to consider on this cosmetic surgery is to avoid sitting directly on your buttocks. Following this instruction will allow the fat grafts in your buttocks to survive and will guarantee long-lasting results.
Swelling of your buttocks may be observed for about six weeks. This is why you're required to wear a special compression garment at all times for about two weeks. Wearing a compression garment will control fluid collection or swelling after the surgery.
About four weeks after surgery, you may be able to resume all normal activities and may do light exercises.
How long will the results of a Brazilian butt lift surgery last?
A Brazilian butt lift can become permanent if the surgical procedure is done correctly by a qualified plastic surgeon. If you follow your doctor's instructions carefully, your cosmetic procedure result can be long-lasting. Touch-ups or another round of fat re-injection may not be necessary.
What are the risks and complications of a Brazilian butt lift?
Like any invasive cosmetic surgery, there are possible risks and complications Brazilian butt lift. Some of these risks and complications include:
Pain
Swelling
Fluid collection on surgical site
Bruising
Numbness
Pulmonary or fat embolism
Failure of fat cells to survive
Deformed buttocks due to weight loss after surgery
To avoid any possible risk and complication, you need a highly-qualified plastic surgeon to do the job. If the Brazilian butt lift surgery is performed correctly, you won't need to worry. Soon, you'll have a better buttock shape and form.
How much does Brazilian butt lift surgery cost?
The total cost of a Brazilian butt lift surgery depends on several factors. You have to consider how many areas will be treated by liposuction for harvesting fat and getting your desired body contour. Other factors include anesthesia costs, surgeon's fees, surgical facility prices, garments, and other relevant expenses.
A Brazilian butt lift surgery typically cost around $4,000 to $5,000. This price only reflects on one treatment session, and it doesn't include all other relevant costs.
This cosmetic procedure may cost you an arm and a leg, but most plastic surgeons offer affordable financing options for you. Make sure to ask your cosmetic doctor if they have such offers.