Table of Contents
Applying makeup takes time, and it can be bothersome to those who have physical conditions. It may limit their capacity to do it well.

By: Beverly Hills Permanent Makeup
Permanent makeup uses specialized cosmetic tattooing techniques to improve features that aren't well-defined. This cosmetic procedure is usually done on facial features that may need enhancement.
Permanent makeup also involves cosmetic tattooing. This cosmetic procedure uses specialized techniques, such as "micropigmentation," "micropigment implantation" or "dermagraphics."
The aesthetic implantation technique embeds colored pigments into the upper reticular layer of the dermis.
Advantages
Nonsurgical, minimally invasive procedure
Non-smearing and non-fading makeup
Doesn't need to set time for makeup application
Enhancement of skin tone and color
Better alternative for those with skin allergies and medical conditions
Disadvantages
Makeup is permanent and tattoo-like, so removing will be difficult if you feel unsatisfied with your results
Permanent makeup pigments may interfere with other procedures such as MRI scans
Allergic reaction to chemical used in permanent makeup
Susceptibility to infection
Pigments may interfere with cranial MRI scans
Who can undergo a permanent makeup procedure?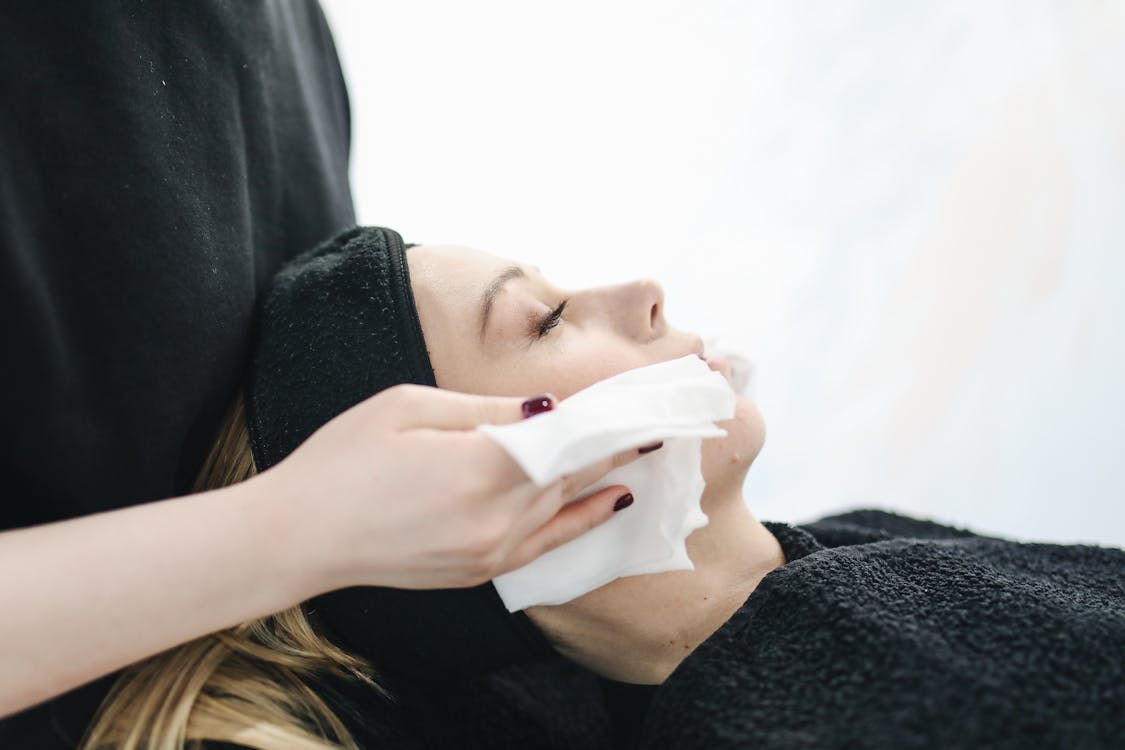 Though permanent makeup isn't an invasive procedure, it's not for everyone. You have to meet the minimum age requirement and have no underlying medical condition that might complicate the procedure. Your ability to heal properly from small wounds is also taken into consideration before undergoing permanent makeup treatment.
Other considerations include:
Facial features that lack definition like poorly defined eyebrows and lashes and pale lips.
Skin allergies caused by cosmetics
No time to apply makeup daily
Loss of pigment or definition of facial features due to trauma or injury
Active people who want to look presentable even during sports activities like swimming and aerobics
Visually challenged
Medical conditions like Parkinson's disease, Arthritis, etc
Skin conditions such as Psoriasis and Vitiligo
Remember that you also need to be optimistic and set realistic goals about the procedure. You must have a good overall health to prevent complications of the treatment.
Which parts of the body can permanent makeup procedures be performed?
Permanent makeup can be performed on specific areas that may need color enhancement, such as:
Eyebrows
Upper and lower eyelids
Lips
Facial scars that may need to be hidden
Areola
How do you choose your plastic surgeon?
It's best to choose a cosmetic surgeon that you can trust. Remember that it's your convenience that matters. Find your preferred plastic surgeon using the following considerations:
Certification and Membership
It's important to ensure that a plastic surgeon is board-certified and a member of the American Society of Plastic Surgeons. Certifications and training can guarantee you of a safe and legitimate procedure. Your plastic surgeon must have an oversight of the facility and is licensed to perform permanent makeup procedure.
Experience
The plastic surgeon's qualifications and experience are essential to achieving desirable results. You'll also be assured that you'll be safe against any risks or complications.
Reputation
Find people who underwent permanent makeup treatment and ask them about the procedure. They may recommend you to cosmetic surgeons who are well-experienced with permanent makeup procedures.
After finding your preferred plastic surgeon to perform permanent makeup treatment, you'll need to set up an appointment for your consultation.
Initial consultation
During your initial consultation, you'll have all the opportunity to discuss with your cosmetic doctor about your aesthetic goals. Your cosmetic surgeon will discuss with you in details what the procedure is about, estimated costs, risks of the procedure, and instructions for aftercare. Your surgeon will make a thorough assessment. He or she will do a physical evaluation on you.
Relevant questions like your medical history, allergies, medications, and underlying medical conditions will be asked. You should be honest with your answers when asked. It's for your convenience and your own good. Medical exams and laboratory testing may be required.
Once your surgeon understands your cosmetic goals and overall medical condition, you'll be scheduled for permanent makeup treatment.
How do you prepare for a permanent makeup procedure?
Your plastic surgeon will provide you with pretreatment instructions. You may be required to do the following before undergoing permanent makeup treatment:
Avoid sun exposure and wear sunscreen or sunblock lotions to protect your skin
Personal hygiene treatments like shaving, waxing, or exfoliating is to be avoided
Avoid smoking at least six weeks before undergoing permanent makeup to promote better healing
Avoid undergoing tanning treatment and use of tanning sprays several weeks before your permanent makeup procedure
Avoid medications that may induce bleeding like aspirin, certain anti-inflammatory drugs, and some herbal medicines
You need to be well-hydrated before and after surgery for safe recovery from treatment
Permanent makeup is done on an outpatient basis. After the treatment, you may be able to return to your normal daily activities. You may be recommended to have someone drive you home after the procedure if needed.
How is a permanent makeup procedure performed?
Permanent makeup uses micropigmentation which is a form of tattoo art.
Your plastic surgeon or well-trained aesthetician will apply a topical anesthetic on areas that need permanent makeup. It's applied to numb your skin and make you feel comfortable during the procedure.
Before the permanent makeup procedure starts, a skin test will be performed by doing a scratch test on your finger. This is done to check if you're allergic to the pigment to be used.
After careful assessment and planning for permanent makeup treatment, your aesthetician or cosmetic surgeon may apply outlines on areas to be tattooed.
Micropigmentation starts by needle penetration of your chosen pigment to the upper reticular layer of the dermis.
You may be required to apply an ointment on the treated areas once the procedure finishes. This is done to prevent scab formation, promote healing, and prevent infection.
You may be required to use a bandage to protect the treated areas for a couple of hours.
To achieve desirable results, you may be recommended to undergo more treatment sessions with an interval of four to six weeks apart.
Recovery
In most cases, you may go back to work and other daily activities immediately after your treatment. After the procedure, you'll receive detailed instructions from your doctor about your post-treatment care, including information about:
Proper skin care especially for treated areas of the skin
Usual symptoms you'll experience after the treatment
Potential risks and signs of complication
It's important that you follow all after treatment instructions provided by your plastic surgeon. Maintain a good relationship with your doctor and contact him or her if you want to verify any sign of pain or discomfort.
Immediately after the procedure, you may normally experience mild pain or discomfort for up to forty-eight hours after treatment. There'll be redness and swelling, but it'll subside after one or two days. Your cosmetic surgeon may prescribe you with an ointment or cream to keep the treated areas moisturized for several days or until the skin heals completely.
Around two to three weeks, a crust will eventually form over the entire tattoo, which will fall off after two weeks. Visible results will be observed in approximately three weeks. You'll be able to determine if the color and shade are appropriate. If you're not happy and satisfied with the initial result, you may opt for a touch-up.
How long will permanent makeup results last?
Permanent makeup is long lasting depending on how you take care of your skin. To achieve desirable results, it may take two or three permanent makeup treatment sessions. Several factors may affect the longevity of permanent makeup, such as aging, advancement of a medical condition, and poor micropigmentation techniques. The makeup may fade over time, and you may need to be touched up.
How much does a permanent makeup procedure cost?
The cost of permanent makeup varies widely. Several factors that affect the cost of this procedure include surgeon's fees, geographic location, the complexity of the procedure, coverage of permanent makeup, equipment and facility fees, and the number of treatment sessions required.
You should know that health insurance providers won't shoulder expenses for permanent makeup as it's an elective procedure. However, many cosmetic surgeons offer patient financing plans to make permanent makeup treatments more affordable for you.
Risks
Most permanent makeup treatments guarantee safe results, and only rare cases of complications occur. Potential risks are thoroughly discussed with you by your surgeon during the initial consultation.
Just like any surgical or nonsurgical procedure, risks must be taken into consideration. Some potential risks of permanent makeup procedures are:
Infection and bleeding on treated areas
Scarring or keloid formation
Allergic reactions to pigments used
Damage to underlying skin structures
Skin discoloration such as bruises
Abnormal swelling
Changes in your skin texture
These signs and symptoms are explained in details by your chosen plastic surgeon during your initial consultation. It's very much recommended that you follow your doctor's instructions and advice to prevent complications.